Old Town Albuquerque

Joeann explores Old Town Albuquerque in New Mexico

An under-the-radar destination, Albuquerque is friendly, fun, and affordable. It is a wealth of attractions, tasty, hot regional cuisine, and unexpected fine wineries. The old collides with new with the convergence of the Old Town and the new Sawmill District.
Ten blocks of quaint shops and restaurants make up Old Town Albuquerque, my favorite part of this New Mexico city.
A vintage building on Route 66
My base was Albuquerque's newest boutique hotel. the art-filled Hotel Chaco.
A bedroom at Hotel Chaco, Old Town Albuquerque
The rooms and the lobby area incorporated the work of contemporary Native American New Mexican artists.
From the circular lobby, with stacked stone masonry inspired by sacred kivas, to the luxurious sleeping rooms, with large balconies replete with couches and an expansive city and mountain views, the combination of modern and historic is delightful.
Lobby of the Hotel Chaco
This hotel is named after the ancient Pueblo cultural center in northwestern New Mexico, Chaco Canyon.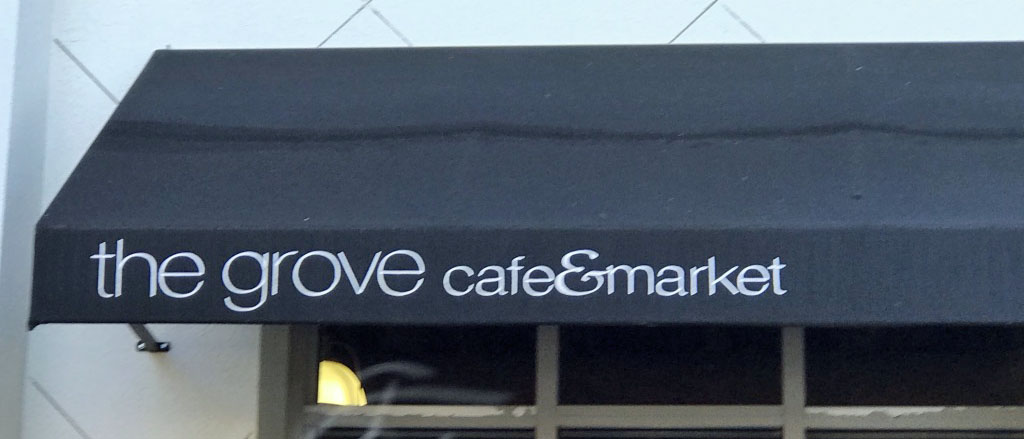 Jason and Lauren Greene, the developers of the Sawmill District that is being developed north of Old Town, own The Grove Café & Market.
Old Town Albuquerque
They have cornered the brunch market with their healthy and indulgent food. You may think those two words are oxymorons but it's actually a perfect description of the innovative cuisine served.
The focus is on fresh ingredients and healthy food, provisioned largely by local growers.
Oh, so many choices—such as poached eggs with prosciutto and asparagus or avocado toast with salad. I was tempted, but didn't get the chocolate ganache, sea salt cupcake.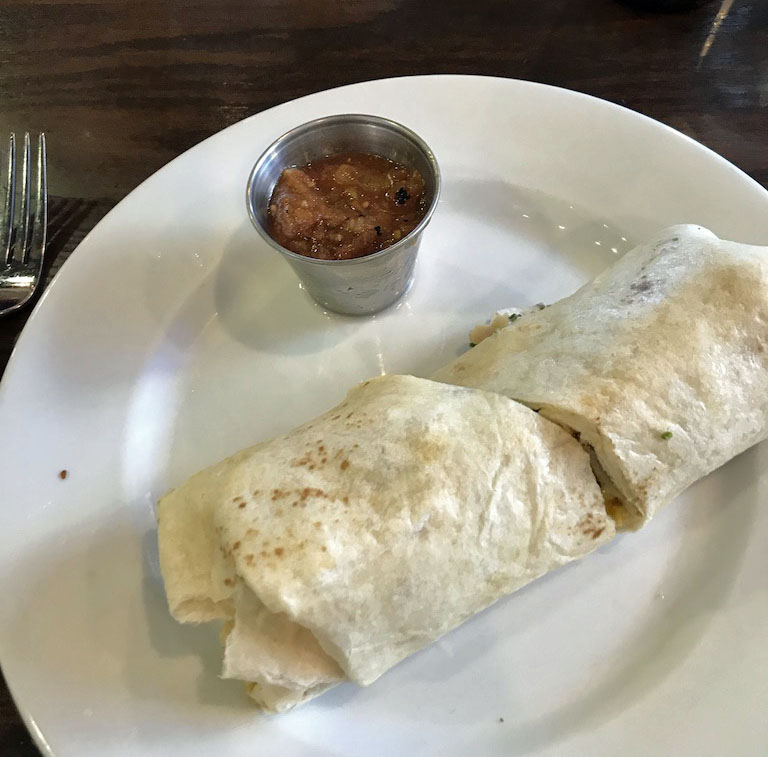 My breakfast burrito at The Grove Café & Market
Instead, my breakfast burrito was a flour tortilla stuffed with scrambled eggs, a local sausage called 'Tully's', goat cheese, green chiles, with a roasted tomato jalapeño salsa. A true New Mexican food breakfast!
Fortified, I was ready to do some adventuring.
From Hotel Chaco's location, it was an easy walk through the 10 blocks of quaint shops and restaurants of Old Town.
Anchoring the square, the San Felipe de Neri Church, built in 1793, has five-foot-thick walls and served as a fortress against the Indians.
As I wandered, antique cars circled the square. In front of the shops, on the sidewalk, local artisans offered beautiful Indian Jewelry on blankets around the square. Spending a few hours here, in and out of shops, was somewhat like being in a museum. Shopping always makes me hungry.
Luckily, the D.H. Lescombes Winery & Bistro was nearby.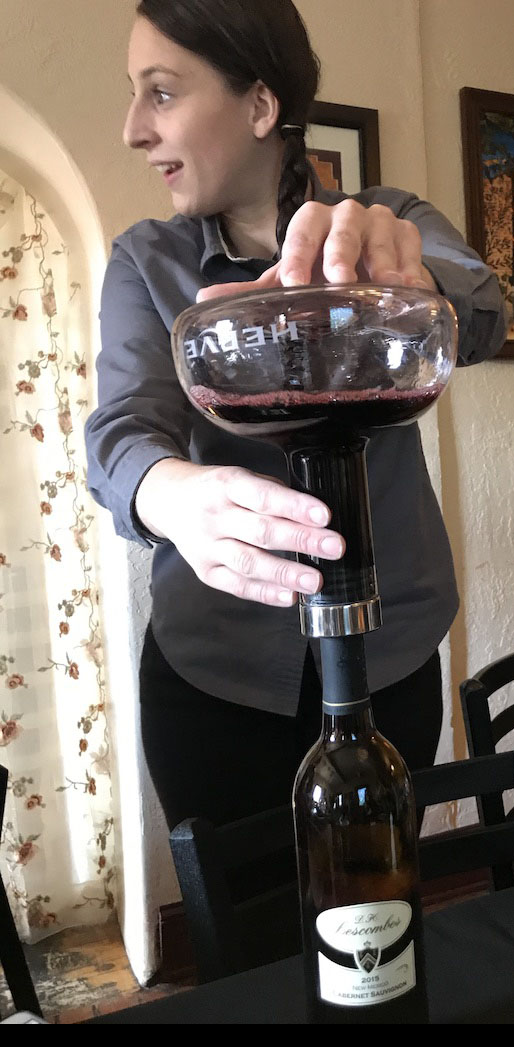 Before lunch, we were treated to a wine tasting from their D.H. Lescombes and St. Clair wineries. It was kind of early for me to start drinking, but you only live once, right?
The owners are descended from six generations of French winemakers. The second largest winery in New Mexico, their grapes are grown on over 200 acres near Deming.
In addition to their great wine, they serve gourmet lunches and dinners with so many tempting options.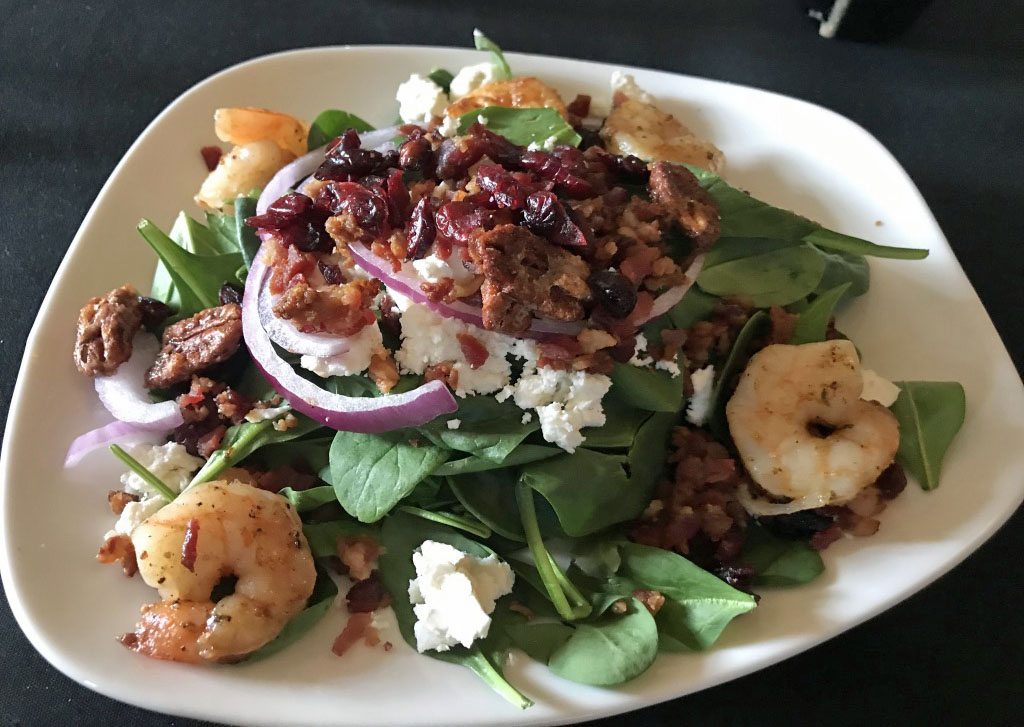 A gourmet salad lunch at Lescombes Winery, Old Town Albuquerque
The Julien's Spinach Salad was loaded with bacon, red onions, cranberries and local sweet and spicy pecans from the Mesilla Valley and feta cheese from Tucumcari Mountain and topped with shrimp.
Biking in and around Old Town Albuquerque.

In the middle of Old Town is Routes Bicycle Tours & Rentals owned by Joshua and Heather Arnold. Taking a bike tour sounded a little daunting since I hadn't been on a bike for over ten years.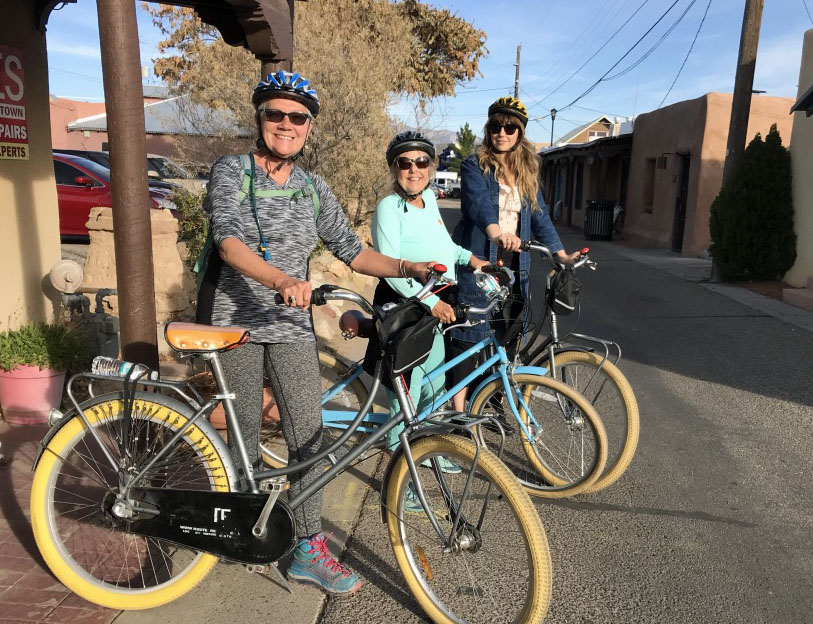 A fun bike tour in Old Town Albuquerque.
How could I pass up a fun tour called 'The Bosque Bike & Wine Tour'? Bikes and wine, though; does this sound like a good idea for a 71-year-old gal? The answer was, "Yes.
Absolutely!" A little wobbly at first, it all came back to me quickly. Josh paced the ride so I could keep up. It may have been a little slow for my companions.
Over a few hours, Josh guided three of us from Old Town to the 16-mile Paseo del Bosque Trail.  A wide multi-use trail, it follows the Rio Grande through its cottonwood "bosque" (or forest).
The Rio Grande near Albuquerque
We biked only a portion of it and then crossed Route 66 for a stop at the Hispanic Cultural Center. 
There we viewed the amazing Mundoz de Mestizaje, a mural depicting all of Spanish history inside the Torreon.
Munsoz de Mestizaje mural in Albuquerque, New Mexico
But…time to go to the winery.

Another 30 minutes along Route 66 brought us to the Sheehan Winery.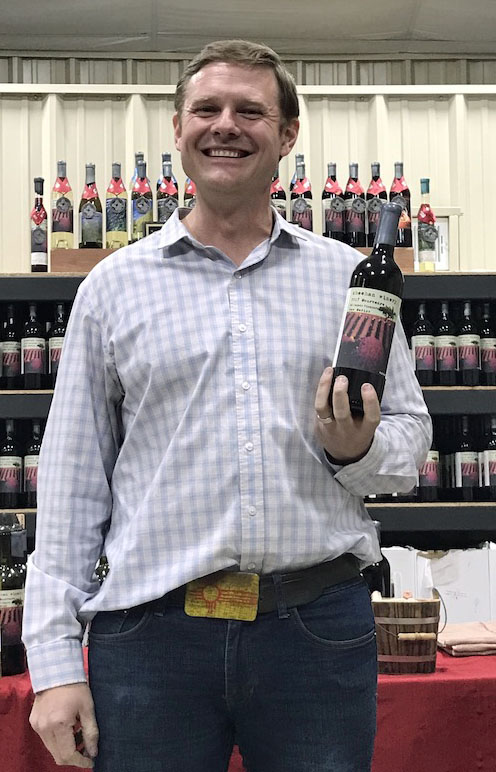 Located in the backyard of his home, owner Sean Sheehan told us how he brought to reality owning his own winery. We tasted 11 of his wines. I was starting to feel VERY relaxed!
You can imagine my relief when Josh took the bikes and I got a ride in the van back to Hotel Chaco.
After the bike ride, it was time to dance!

Next to my hotel, was the Hotel Albuquerque where I attended a lively performance at Tablao Flamenco Albuquerque.
Actually, I didn't dance (good thing!). I nibbled on delicious tapas and sipped New Mexico wine, captivated by the four vibrant, intense Flamenco dancers.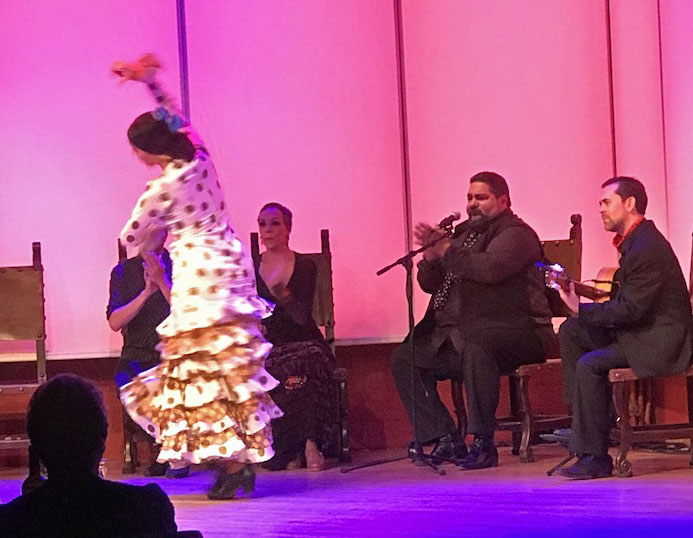 You may not know (I didn't), but Albuquerque is known as the Flamenco Capital of the US. For the last 32 years, sponsored by University of New Mexico and the National Institute of Flamenco, the annual Festival Flamenco Albuquerque has brought the finest flamenco artists in the world to Albuquerque.
Fine wines in New Mexico

America's first wine was produced in New Mexico in 1629 when the Franciscan monks got tired of paying Spain's high prices and planted their own grapes. Today, there are over 50 Wineries in New Mexico.
The next day, I sampled more wine at Hotel Chaco's tasting room, Crafted. New Mexico wines and spirits are poured here.
First, I tasted three white wines. Then up to the 5th floor to the wrap-around patio. I loved the stunning views of the city and the Sandia Mountains as a full moon rose over the mountains as the sun set.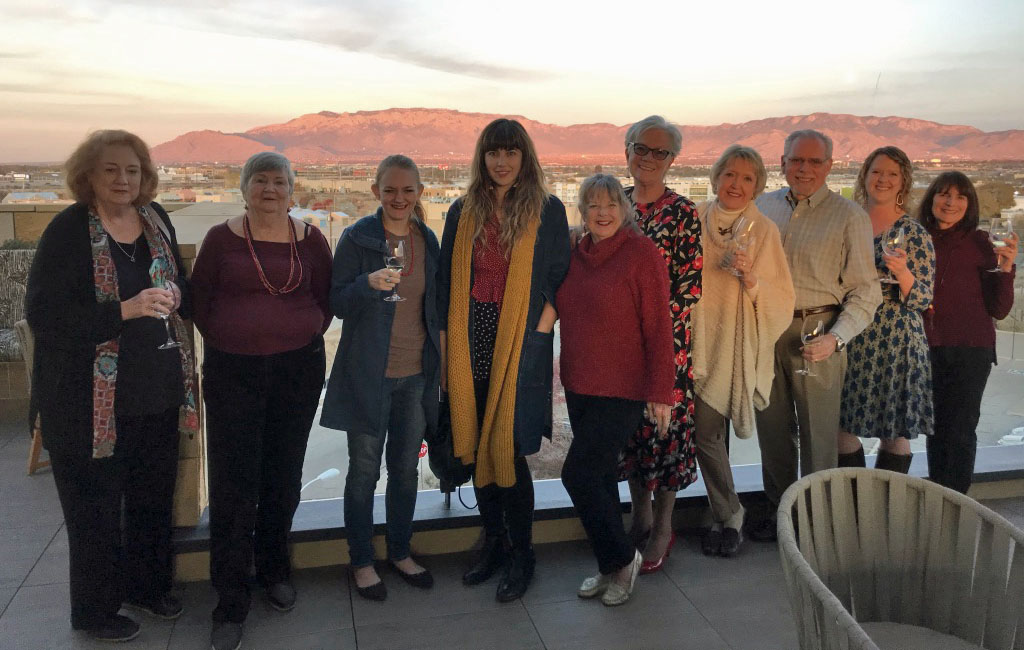 It was a glorious backdrop to enjoy happy hour!
Sandia, the Spanish word for watermelon, describes the bright pink that the mountains turn at sunset. Back downstairs, I finished with three red wines, and a shot of tasty New Mexico Wheelers Gin, infused with juniper and sage.
Old Town certainly satisfied me with its tempting food, drink, sites, and shopping.
Disclosure: Hosted by VisitABQ.com, I joined seven other travel writers to eat, drink and be merry!
--Story & photos by Joeann Fossland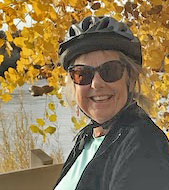 "If you're not enjoying yourself, you're doing it wrong" is Joeann Fossland's motto. She was bitten by the travel bug in the 70s and spent a year traveling the country with two small children in a blue and purple converted school bus with peace symbols on the front!
Since then, she has lived in a tipi at 8500 feet with no running water or electricity for 18 months, explored 4 continents, 26 countries and dozens of beaches and islands. In her first career, she was an award-winning writer and speaker in the real estate industry for 35 years.

These days, seduced by her love of travel, she has re-invented herself. Joeann loves to share travel insights and adventures to inspire like-minded baby boomers to make their dreams come true. A member of ITWPA, she has published hundreds of articles, and her stories have been featured in 4 books, including Conversations for Success and Chocolate for A Woman's Heart.
If you enjoyed this story, be sure to read Joeann's other features:

Joeann's Budget Friendly Guide to Hawaii's Big Island

Mii amo: A Real Indulgent Mother-Daughter Visit to a spa in Sedona, Arizona

An Oasis in The Desert of Death Valley
---
---