Oman Wadis in Summer
Erin Coyle visits 6 Oman Wadis during the hot summer months to hike, swim and cool off!
The Sultanate of Oman, located near Saudi Arabia and the UAE, is known for the desert, falaj systems, mountains, hiking, water sports, and ancient villages. Having lived here for almost four years, Oman is one of the safest countries and has the best hospitality. While most tourists visit from October to the end of March or early April, it is possible to come during the summer.
Yes, it's scorching, with temperatures now at nearly 45 degrees; however, there are ways to beat the heat. For those who like hiking and swimming, visiting some Wadis is a great way to cool off. Wadis usually have pools of water, surrounded by trees and views of the mountains.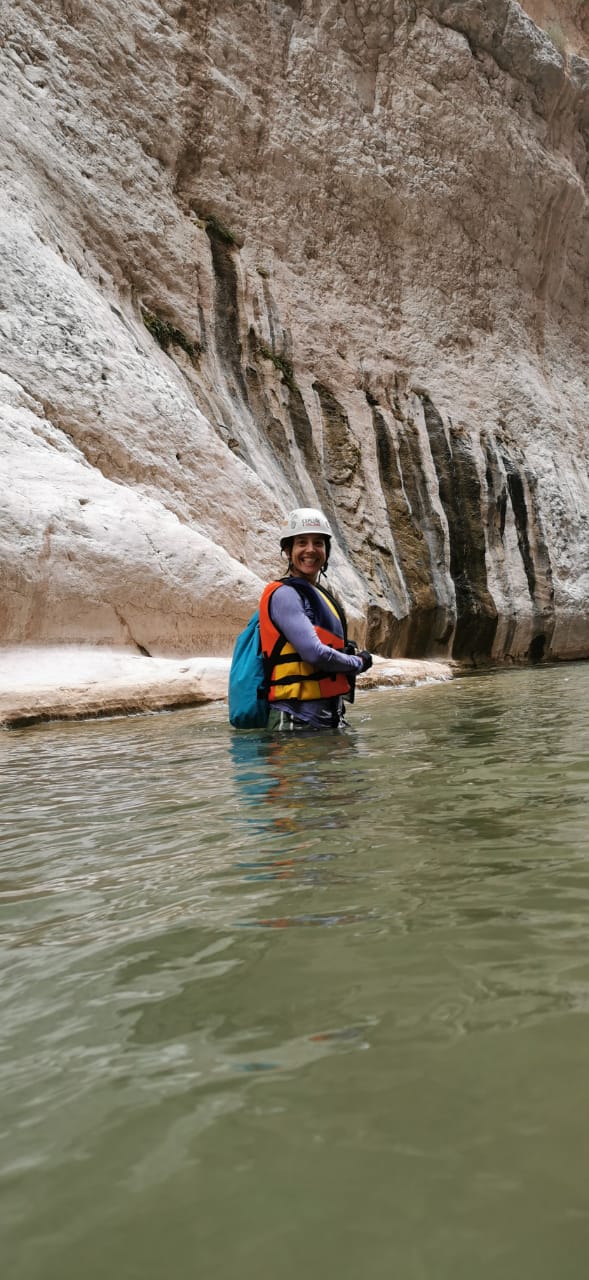 Erin at Wadi Umq Beer
Below is a list of six Wadis, ranging from easy to challenging.
1. Wadi Hoqain
Located in Rustaq, an hour from Muscat, this Wadi has four swimming pools. After parking the car, walk downstairs and head toward the path. After following the red, yellow, and white flags on the rocks, you will go left and see the first pool to swim through. Each pool is about 10-20 meters.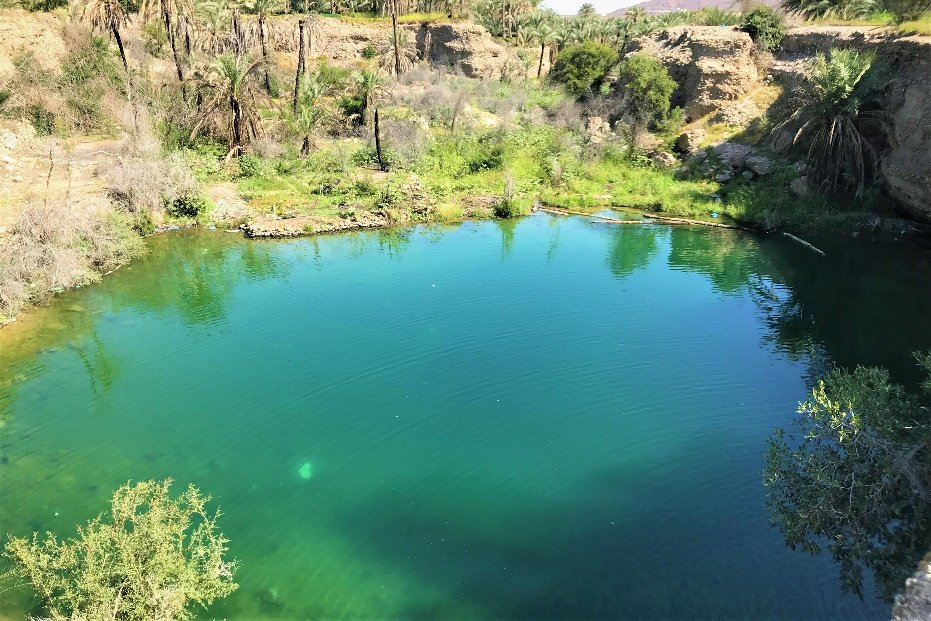 Beautiful Wadi Hoqain
If it isn't too hot, there is always a chance to take the farm path. Eventually, you can walk down to a small pool and swim. The farm path will take about twenty minutes from the area in which the Wadi begins. Hoqain is easy, and it is possible to go on your own. If you prefer to go with a group, check out @quick_challenge, @rawahna_adventures, @exploreandchallenge, @cyr_adventures, or @wadiadventure on Instagram.
2. Wadi Arbeieen
While heading toward Sur, Wadi Arbeieen is about an hour and fifteen minutes away from Muscat. This one aims to reach the waterfall. First, walking through some farms will take about forty minutes before going to the first Wadi. There are about five pools before reaching the halfway point. Each one is about 10 to 20 meters. There will be swimming and then walking around boulders and then swimming again. From the halfway point, there are another 30 minutes or less to reach the waterfall. Just follow the pools and boulders.
Wadi Arbeieen
It is possible to wear hiking boots in the water, or water shoes are okay as long as there is a sturdy grip on the heel for hiking. A four-wheel is needed to reach this Wadi. The views of the golden color mountains are worth coming for a swim. This is considered a medium hike.
3. Umq Beer
For those seeking a challenge, this one is good because there is abseiling, swimming and hiking. The meeting point will be at Qalhat, fifteen minutes from Sur, and then groups will drive up the mountain before reaching the village. The first half of the hike requires hiking around boulders and abseiling. There are five to six abseils, ranging from 10 to 30-meter drops. There are about seven to eight pools, ranging from 15 to 800 meters. There is a lot of swimming.
Turquoise water, mountains and lush green date trees surrounding you, and cool crevasses in rocks are worth visiting if you like an adventure. This is a difficult level hike.
Difficult Hike through Umq Beer
It is best to go with a group for this hike. Check out @wadiadventure, @rawahna_adventures, @quick_challenge, and @cyradventure on Instagram.
4. Wadi Shab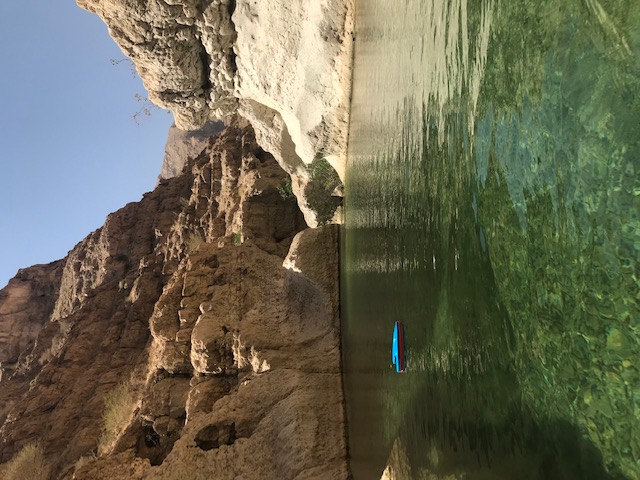 Wadi Shab
Located about an hour and a half from Muscat, heading toward Sur, this is a good one to swim to a cave. After going across the water, the hiking starts. Follow the red, white, and yellow-painted flags. The walk will take around forty-five minutes before reaching the first pool. There are three pools to swim through, and visitors can swim inside the cave. The entrance is narrow, so keep this in mind. Many like to use the rope to climb up on the rocks and jump off.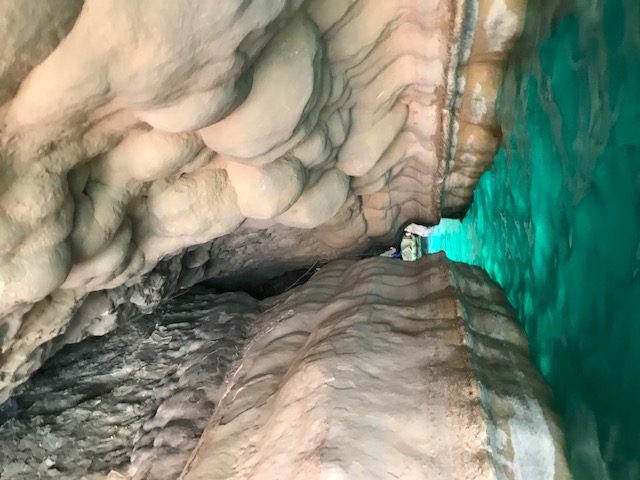 Entering the cave at Wadi Shab
It is worth visiting with mountain views, boulders, and small waterfalls along the way. The boat costs 1 rial for a return trip. It is possible to do this on your own. Wadi Shab is an easy hike.
5. Wadi Bani Khalid
Wadi Bani Khalid
Wadi Bani Khalid is about an hour and a half from Sur as you drive toward the desert. When arriving, first walk past the small pool of water. Once passing the small bridge, the hike starts. Walking will take about ten minutes before reaching the first pool to swim. A small waterfall can also be reached by climbing over some small rocks. Most stay here and swim another 20 meters to the next point.
Others continue to the cave, which takes another fifteen minutes to reach. The cave is dark, so bring a torch. The turquoise water, date trees, and unique rock formations make this Wadi a good visit. For those who don't like to hike, it is possible to sit in the first pool of water. The hike is an easy one.
6. Wadi Hawar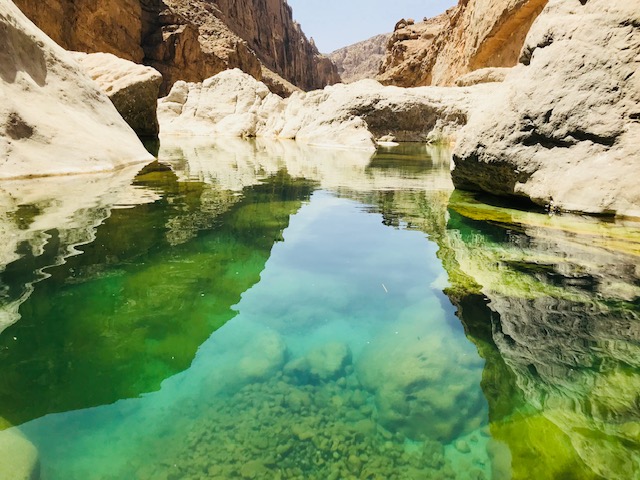 Stunning Wadi Hawar
Wadi Hawar is after Wadi Bani Khalid. There will be about a thirty to forty-minute hike before reaching the first pool of water. The first pool is about twenty-five meters. After swimming through the first pool, there will be another short hike before going to the next pool. Wadi Hawar is a mix of hiking and swimming. The turquoise pools, stunning crevasses, distinctive rock formations, and boulders highlight this medium to the challenging level wadi.
While it may seem unbearable to come to the Middle East in the summer, the wadis in Oman are worth visiting to cool off and enjoy the scenery. Even for those who don't like to swim, it's still worth coming just for some pictures.
- Story and photos by Erin Coyle
---
Author Bio
I am a Travel Writers University member. Traveling with friends, solo and in group tours, I have explored Southeast Asia, Zealandia, Europe, the Middle East, and South Africa.

I am currently teaching English in a foundation program at a university in Sur, the Sultanate of Oman. Before this, I taught English at a university in Nanchang China, for five years. Check out my website erinshotpot or find me on Instagram @erinshotpot.
If you enjoyed this story, click on the links below to read Erin's other articles in the magazine:
A Visit to the Spa at Shangri-La Barr Al Jissah Resort Muscat
A trip report from the 5 Utah National Parks
A Visit to Sara Luxury Camp Jordan and a trip to Wadi Rum
---