Machu Picchu Inca Trail
Erin Coyle hikes the Inca Trail to see the UNESCO site of Machu Picchu
I had goosebumps on my arms and chills running through my body as I slowly approached the Sun Gate to view an ancient city. Whispers from the mountains and birds chirping, combined with a few short laughs from my hiking companions, were the only sounds I heard. Tears were starting to form in the corners of my eyes, followed by a big grin when I realized we would be at the balcony view in another twenty minutes.

After four days of walking up and down uneven stairs, ascending 1,000 meters up a steep gravel path, while having a few walking breaks on a flat course, I had checked off one of the items on my bucket list: hiking the Inca Trail to Machu Picchu. The two-year wait due to Covid was well worth it.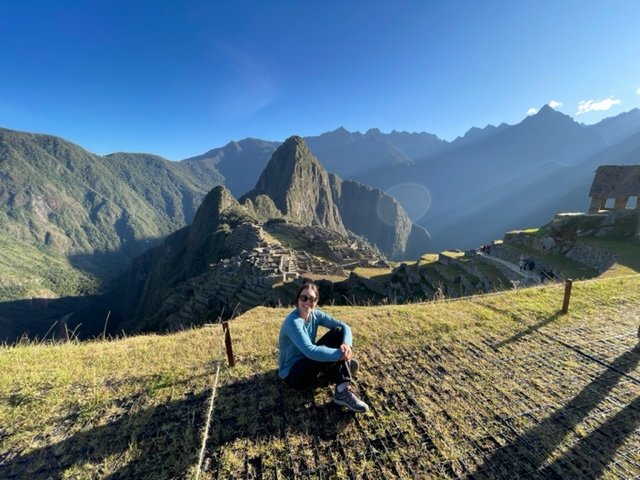 Erin overlooking Machu Picchu
I had always wanted to visit South American countries but had never planned anything until a few years ago. The UNESCO site of Machu Picchu had been on my list for many years, but I never realized there was a trail I could take to see it from a different perspective. I talked to a fellow traveler three years ago who told me hiking the Inca Trail to Machu Picchu changed his life.
After some research, I booked a seven-day tour, including the four-day hike to Machu Picchu. I was doing a happy dance after I booked it and decided I needed a plan to start training. I hike regularly, but I would be at a high altitude this time, and there would not be a day off. A few friends started training with me as we would hike up this hill, huffing and puffing for several hours. However, plans would change due to Covid.
My heart sank twice when I received the email two years ago that the tour would be canceled. I kept rebooking and told the company to book it again for the following year. This year I was determined to go, no matter what. They say that the third time is the charm, which was undoubtedly the case.
The only emails I received this time were the countdown to my trip, which I happily read and continued jumping up and down with excitement anytime I thought about my upcoming trip. My weekly hiking practices continued, even when temperatures would reach 46 to 48 degrees Celsius, and I continued to build my endurance with classes at the gym. I felt like I was ready to go.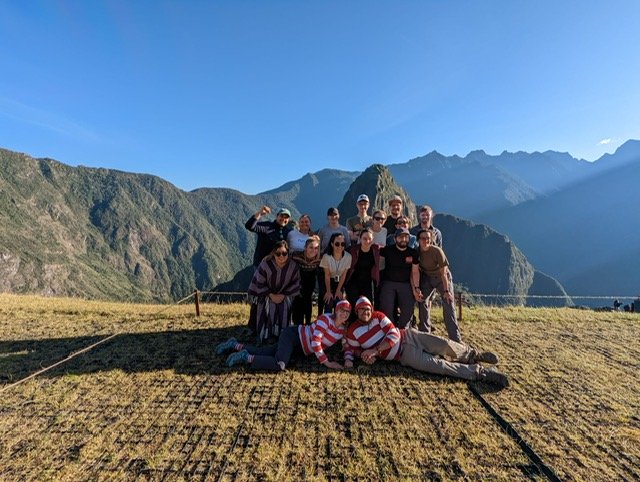 Our Group!
With my altitude sickness pills in hand, it was finally time to meet my hiking group in Cusco. Butterflies were rolling inside my stomach as I started walking toward the tour office. There is always this anticipation before meeting a travel group because you never know the kinds of personalities in the group.
There were sixteen of us from the U.S., Canada, Ireland, Switzerland, Norway, and the UK. We all hit it off immediately, and most of us had a shared goal, to get and see Machu Picchu from a different perspective. Our guide, Ever, gave us a duffel bag each that we were to put some items in for the porters to carry, which couldn't weigh more than 6kg, including the rented sleeping bags.
After our briefing about the hike, it was time to sleep to get ready to make our way to the Sacred Valley.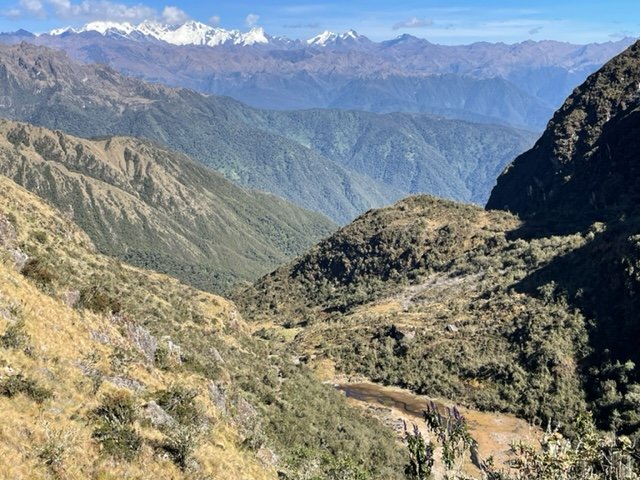 The Views along the Trail!
One day before the hike, we explored different areas of the Sacred Valley before driving to Ollantaytambo. This town was our resting place before making the thirty-minute drive the following day to the start of the hike.
As nighttime set in, I was starting to get nervous about the beginning of the walk. Even though you read and prepare for a big hike, it's still daunting because of the unknown and unexpected. Surprisingly, I slept well and was ready to go the following morning.
After breakfast, I paused for a moment to enjoy the beauty of the hotel garden, took some deep breaths, and told myself I had waited for this moment for over two years. I was grateful that I had this opportunity, and I knew with my travel group of positive people, it was going to be epic.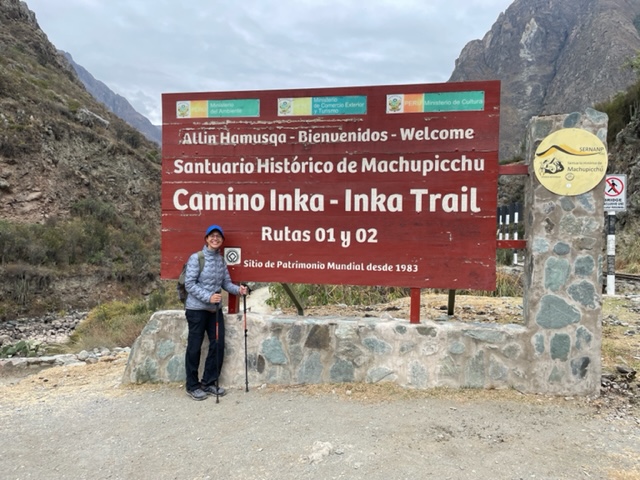 The start of the Inca Trail
We made it to the start point and Ever told us what to expect on this first day. With our group huddled and our arms together in a circle, we did a group cheer and raised our hands with excitement. Ever called us his family when we first met him, and it did feel like we were a family. So it was time to go through the checkpoint with our passports and start the 42km four-day hike. A rush of adrenaline came through my body, and I knew I was ready.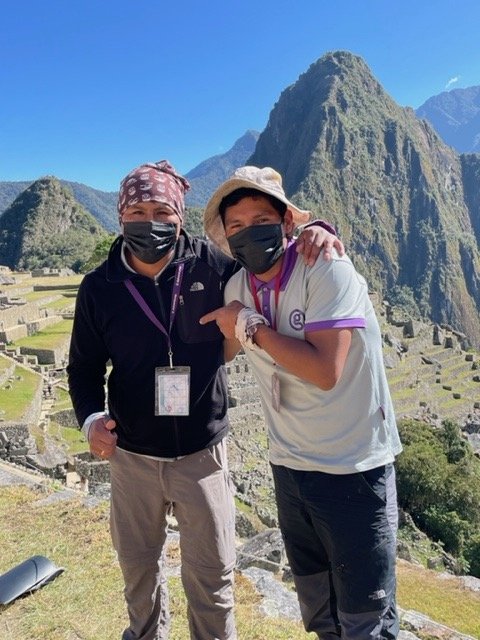 Our guides, Ever, on the left, and Johnny on the right
The first day was excellent, and I eased into the hike. We hiked on mostly a flat dirt path with a few not-so-steep inclines. We took a lot of breaks, so it helped. I felt such a sense of accomplishment on this first day and knew it would continue to be epic. Views of mountains, glaciers, and ancient ruins surrounded us all day. Anytime we finished hiking for lunch or at the end of the day, our team of porters was always clapping for us.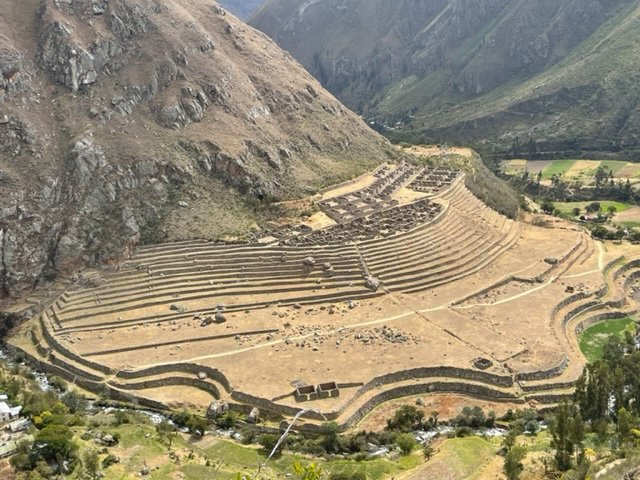 Views of ancient ruins on the Trail
One challenge I overcame was ascending 1,000 meters to reach an altitude of just over 4,000 meters. My chest was getting tight on the second day after two hours of hiking while we started climbing up. It was impossible to do deep breathing, so only heavy huffing and puffing came out of my mouth. But thanks to my supportive group, coca leaves, oil to open up my chest, and the many breaks we took, we managed to reach the summit. Words cannot describe the feelings I felt after this feat.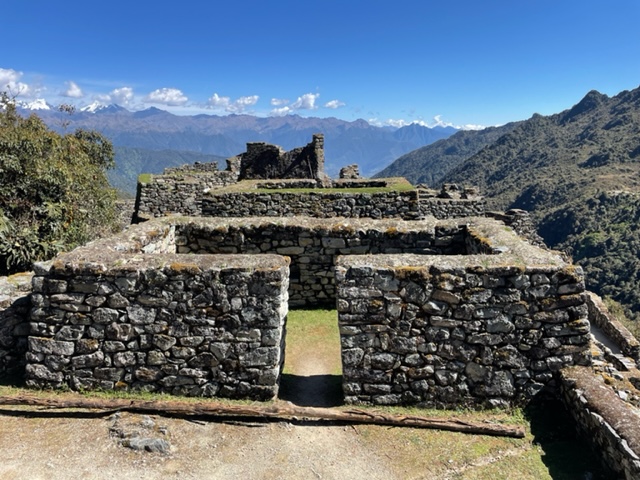 The Ancient Ruins
And now, fast forward back to approaching the Sun Gate to see the views of Machu Picchu city. Excitement, laughter, and chills ran through my body. I could not believe I was looking at Machu Picchu from a trail. The city looked fake, almost like a movie set that was about to be torn down.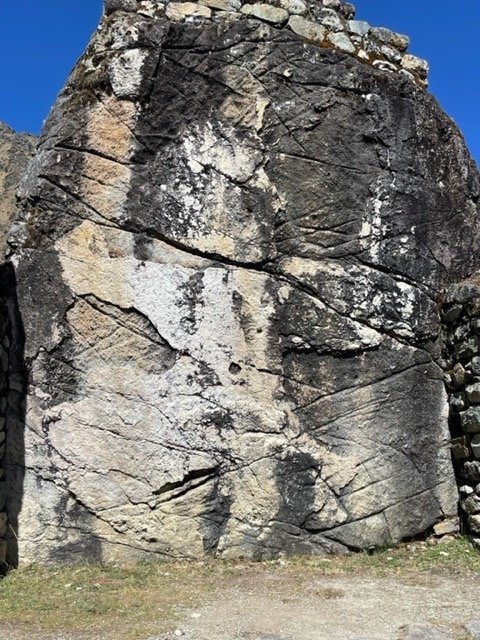 Messengers were very important in the Inca civilization
We eventually made our way down for our tour, which seemed surreal. Four days and 42 km later, I had overcome challenges while learning about an ancient civilization and culture and bonding with fellow group members from around the world.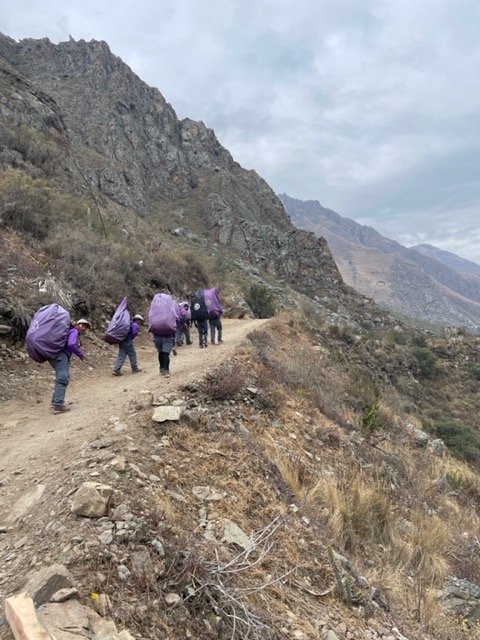 The porters who carry everything!
This hike couldn't have been done without my friends who trained with me before the trip and the encouragement and motivation from our two guides, Ever and Johnny. I also couldn't have asked for a better group that always remained positive and kept going, no matter what.
Huge kudos go to our group of porters who carried everything from our camping equipment to water and food. They also brought us bowls of hot water at the end of the day and in the morning, along with coca tea, which I appreciated. The porters deserve the clapping at the end of every day.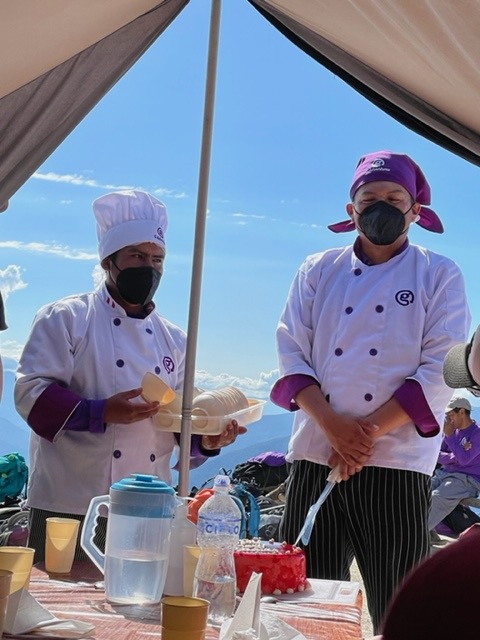 Our chefs, Silio on the left and Emerson on the right
Of course, a big thanks to our chefs who kept us well fed on the hike. I am so grateful I had the chance to embark on this beautiful and unforgettable journey. Whatever goals you have, never give up because they will come true.
Conclusion
If planning to do the Inca Trail hike, I recommend booking early because trail passes sell out fast.
Altitude will be an issue on the second day, so it is good to bring altitude sickness pills. The local pharmacies also sell coca tablets.
It is good to train before your trip. Either practice hill walking or go to a gym and use the stair climber or the treadmill with an incline.
There are toilets along the trail on the first day but expect to pay one or two Sols, so have coins handy.
The four day hike is a journey worth going on if you like challenges and learning about an ancient civilization.

- Story and photos by Erin Coyle
Author Bio
I am a Travel Writers University member. Traveling with friends, solo and in group tours, I have explored Southeast Asia, Zealandia, Europe, the Middle East, and South Africa.

I am currently teaching English in a foundation program at a university in Sur, the Sultanate of Oman. Before this, I taught English at a university in Nanchang China, for five years. Check out my website erinshotpot or find me on Instagram @erinshotpot.
If you enjoyed this story, click on the links below to read Erin's other articles in the magazine:
A Visit to the Spa at Shangri-La Barr Al Jissah Resort Muscat
A trip report from the 5 Utah National Parks
A Visit to Sara Luxury Camp Jordan and a trip to Wadi Rum
Erin visits 6 Oman Wadis during the hot summer months
---