On the Road Namibia
Cam Usher visits Namibia, in Southwest Africa; On The Road Namibia

"Where is Namibia?" asked my friends.
With a quick geography lesson, I explained that Namibia borders the Atlantic Ocean and is tucked into the southwest corner of Africa between Angola and the Republic of South Africa. It is dominated by austere landscapes, spectacular sand dunes, and endless dusty byways.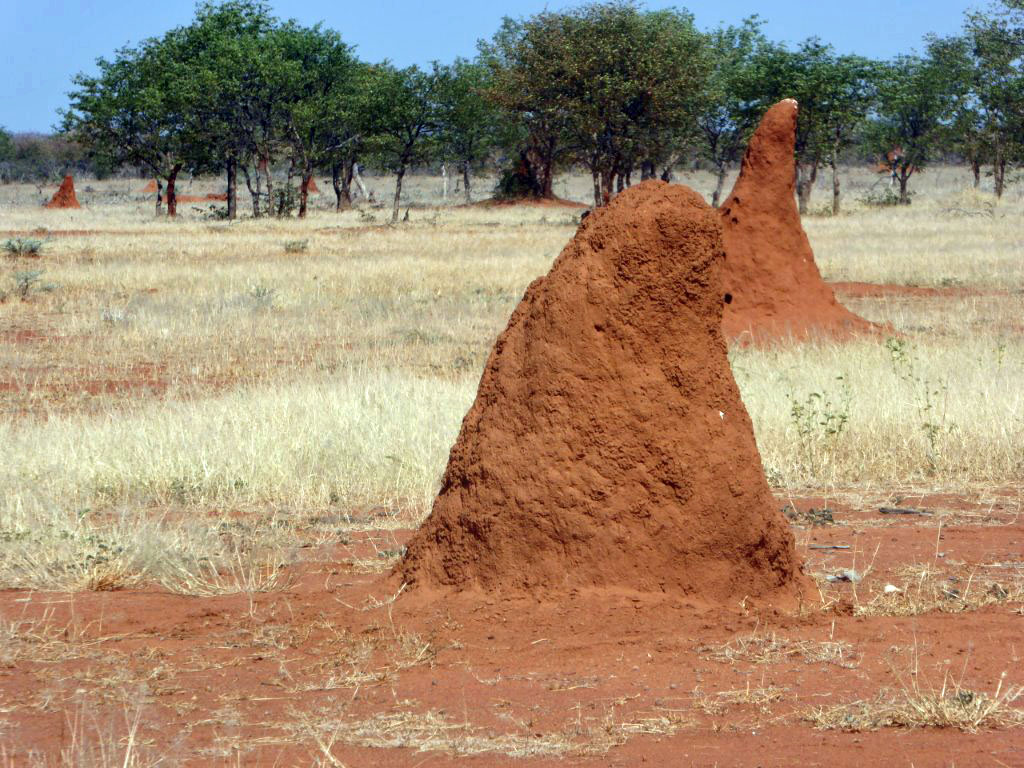 Ant dunes in Namibia, Africa
Home to diverse African zoology, it is a free-range habitat with few fences.  
Next, friends asked, "Why would you travel there"?
Why not? It's all about the adventure and the roads not taken. . .
For eleven searing days in May, which is autumn south of the equator, I joined a group of fifteen well-seasoned globe-trotters and endured 1,500 mostly unpaved miles enjoying dramatic desert scenery and exceptional wildlife.
On the road Namibia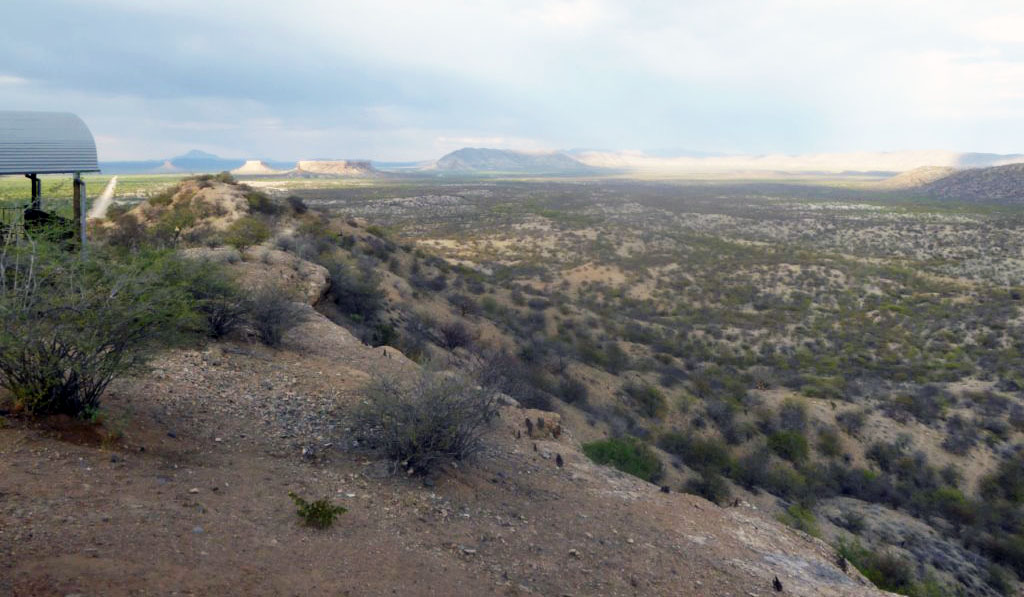 We crossed the country in a diamond pattern from Windhoek south to Namib-Naukluft National Park and the Sossusvlei desert kingdom, northwest to the Teutonic-colonial beach resort of Swakopmund, north through grassy Damaraland to the wildlife realm of Etosha National Park, and back to Windhoek.
Many of our days began with 4:45 AM wake-up calls,  for long days to cover the extensive miles between far-flung overnights stops. Daily temperatures were in the high 90s.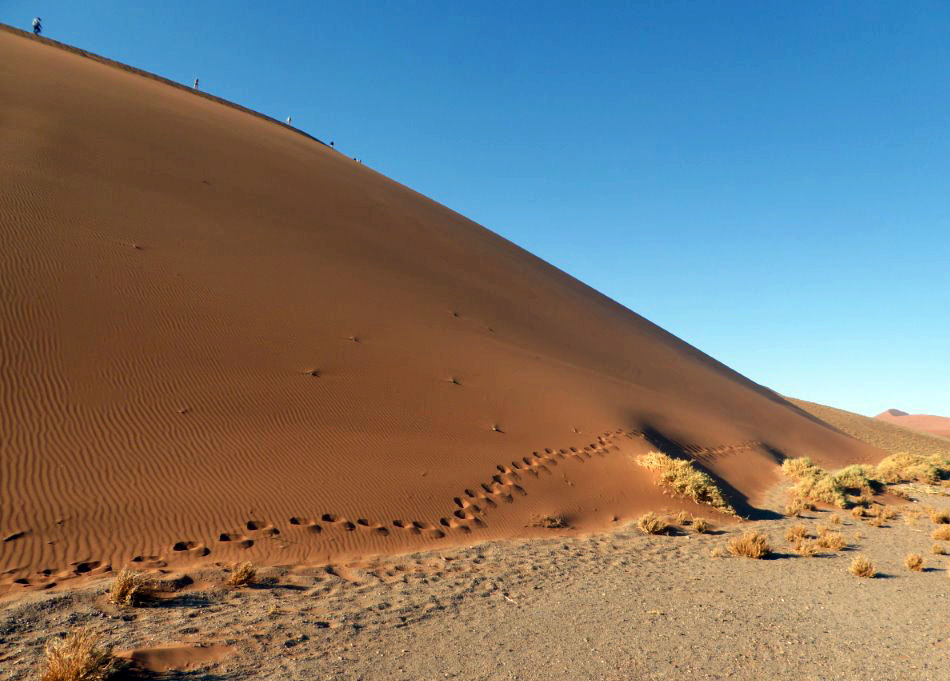 Sand dunes in Namibia, Africa
Larger than Texas but with a miniscule population of 2.2 million, Namibia is the world's fifth lowest country in population density, with a scant 3,300 miles of tarmac and 23,000 miles of rough gravel, salt, or dirt roads.
Except for pavement in the abbreviated tourism corridor along the ocean and the short highways leading into Windhoek, the rest was bump and grind.
All across the country, we didn't see any law enforcement vehicles. Petrol stations and overnight accommodations were infrequent. Most vehicles had gigantic auxiliary fuel cans on their roof.
It was not unusual to drive an hour plus without passing other automobiles, and trucks were almost non-existent. In grazing areas, locals used carts and donkeys for transportation.
Although our bus was air-conditioned, the baggage hold was not, resulting in a meltdown of make-up and other grooming products.
Box lunches were our meals du jour since restaurants were few. Ice was seldom available for the cooler. Occasionally our daily fried chicken was edgy. 

On the road Namibia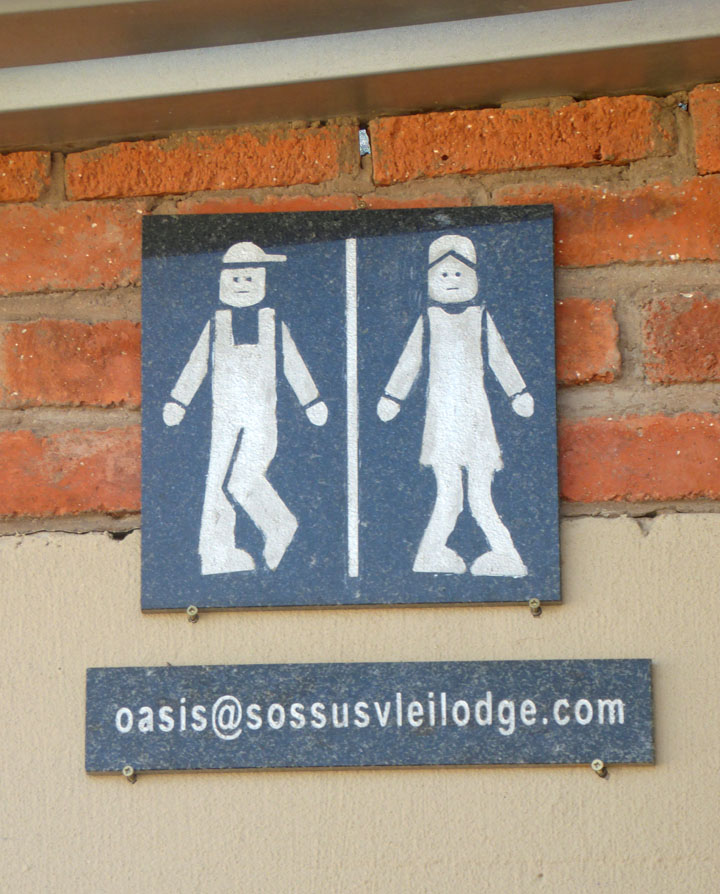 Bathroom signs in Namibia, Africa.
In lieu of restrooms, sagebrush and cactus provided screening. Most directional signs did not post mileage and rarely the destination, simply the name of the road (C-19, B-2) along with arrows. 

When the wind blew, which was often, the resulting sandstorms blotted out the landscape around up.

Much of Namibia's barren topography resembles Death Valley, California enhanced by a 1,100-mile coastline hugged by dunes. The tallest (700-1,000 feet) dunes rise with ever-changing height and color sculpted by shifting winds and sunlight; orange at dawn, gold mid-morning, midday taupe, scarlet at sunset, silver at night.

The limber among us climbed challenging slopes, then climbed down to desolate Deadvlei marsh, a white salt pan scattered with the withered black trunks of 900-year-old acacia trees.
Did I mention that it was exceptionally warm?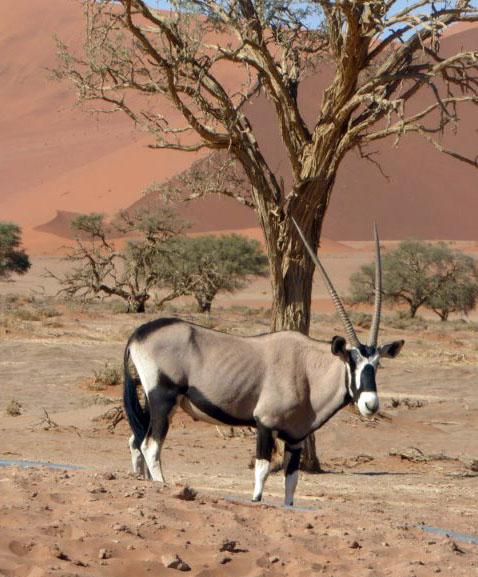 An orek in Namibia, Africa
We were thrilled to drive through southern Namibia and see herds of zebras and several varieties of deer in game preserves. Outside the enclosures, springbok, antelope and oryx would race alongside our bus and kick up billows of dust. Families of gray baboons, ostrich, and jackals dining on roadside foliage fascinated us as we cruised by.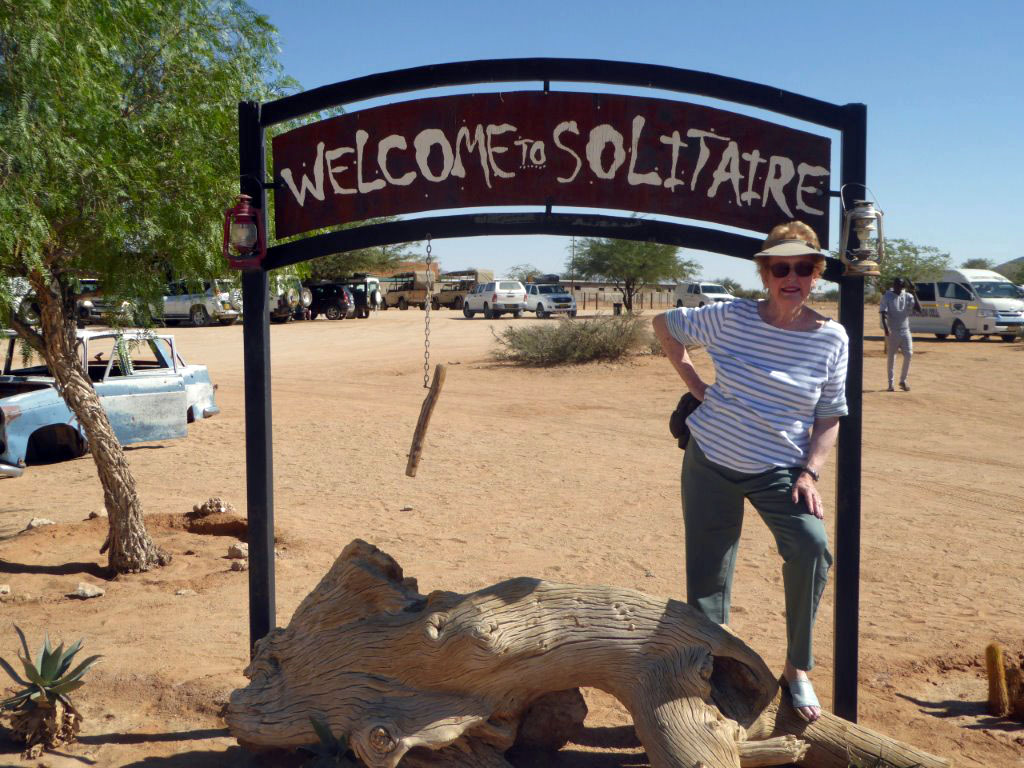 Solitaire
Half-way between Soussusvlei and Walvis Bay, we refueled at Solitaire, an outpost known for "the best apple strudel in Namibia." There was none by mid-afternoon so we missed out on this famous pastry at an improbable venue.

This backwater quasi-oasis is the only business within fifty miles of anything. The compound of Solitaire features a display of rusty US automobiles positioned in sand bordering the entrance.
Onsite are a cactus garden, gas pumps, general store, airstrip, and small lodge with a brackish pool. After a 30-minute respite, we were primed to move on.  
Heading north from Solitaire toward the coast, the road was especially rough; the bus rattled and shook as we trundled along at 40 mph.
The surroundings became a monochromatic void in every direction, a lonely stretch of emptiness with no underbrush, inclines or bluffs to interrupt the horizon.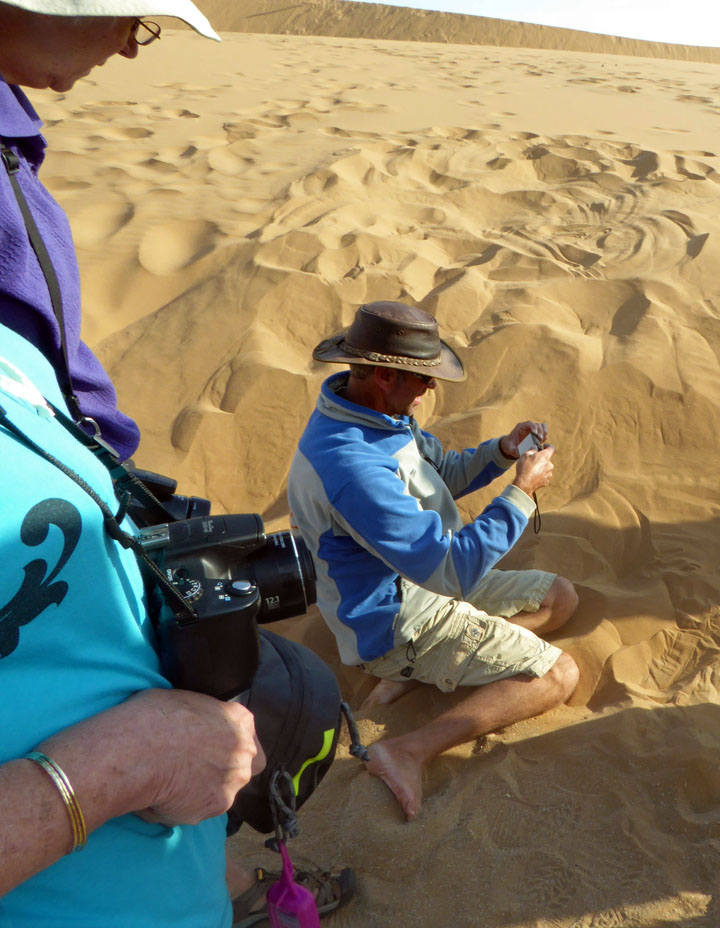 Desert ecology
Along the 110-mile stretch, the only distractions from the monotony were decorative rock piles. These creative mounds were low-rise totems assembled along the edge of the road. Curiously, most were erected on the west side. 


Rock totems in Namibia, Africa
As we advanced across the expansive wasteland the day's highlight was crossing the Tropic of Capricorn. It was unnerving to watch the sun traverse the skyline north of us, unlike in the US where the sun crosses south.
On the dunes bordering Swakopmund, the resident naturalist provided an intriguing lecture about desert ecology.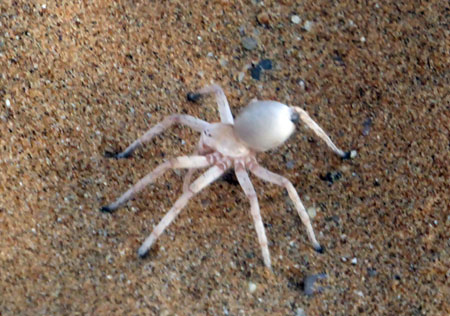 A white princess spider in Namibia, Africa
As geckos and lizards skittered around us, Chris dug a poisonous sidewinder and sizeable white princess spider out of the reddish sand, as well as a giant black scorpion plucked from a stone wash.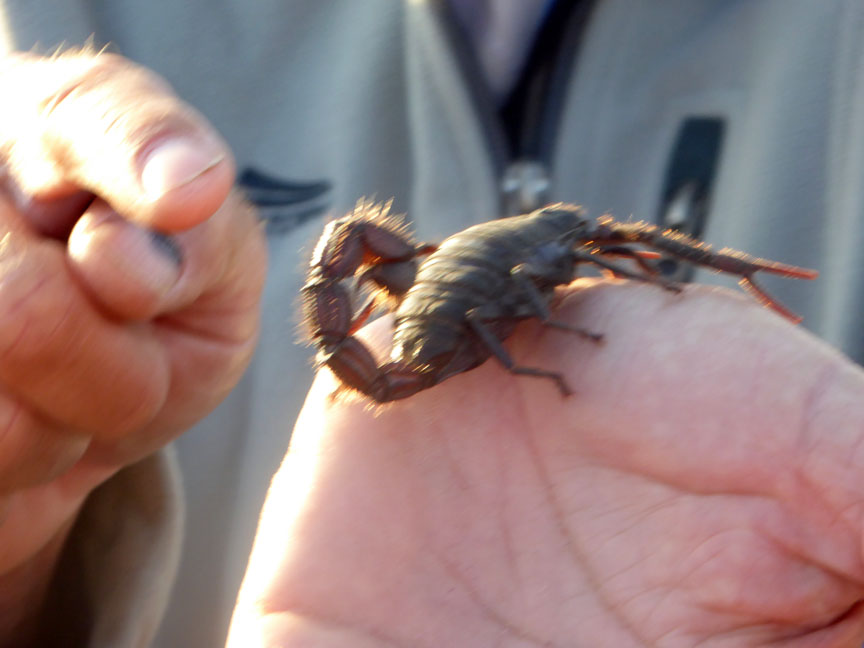 A scorpion in Namibia, Africa
After placing the specimens in his hands, they climbed up his arm.
"Don't agitate them and they won't bite," he said, but there were no takers to share the macabre experience.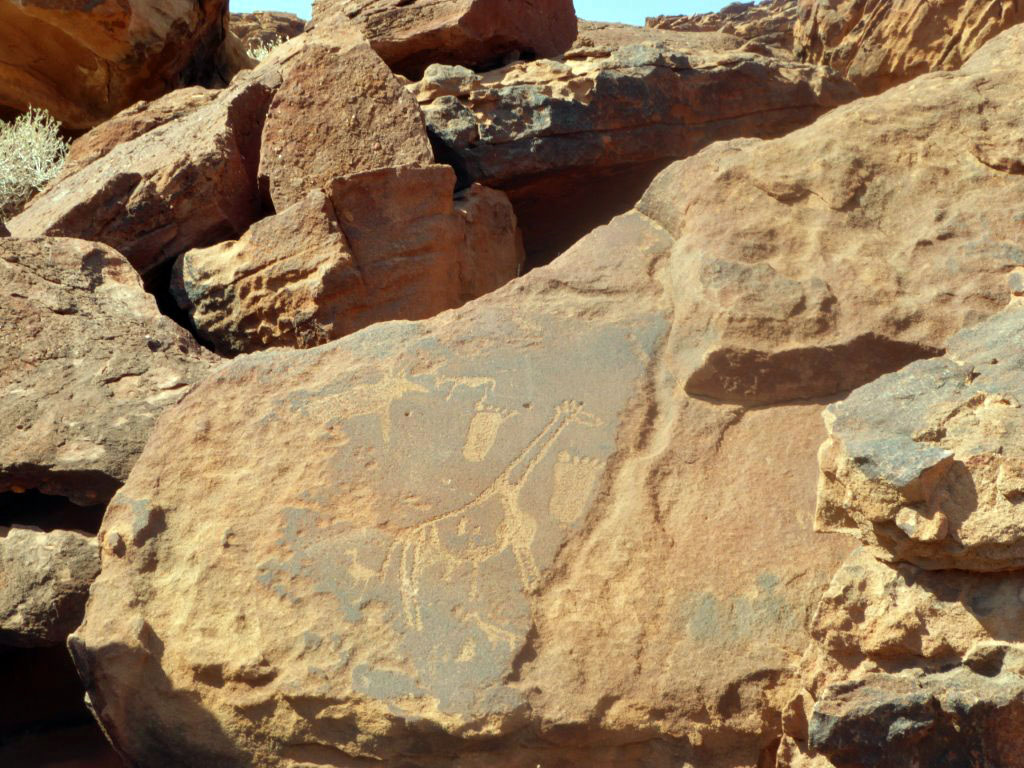 Rock art in Namibia, Africa
Following the nature hike, with Walvis Bay as a shimmering backdrop at sunset, we raced 4x4s across the extensive sands, the same impressive crimson ridges where the 2015 blockbuster Mad Max: Fury Road was filmed.
Traveling those long and winding Namibian roads, we admired ancient petroglyphs at Twyfelfontein, were fascinated by baboons eating flowers outside our lodge in Damaraland, waited as elephants crossed our path in Etosha National Park, visited a native Himba village, drove along Fidel Castro Boulevard and Robert Mugabe Avenue in Windhoek, viewed the sparkling Milky Way in complete darkness, and heard lions roar at dawn at our Etosha lodge waterhole.   
Grueling and rewarding. Would I return? In a heartbeat!
-Story and photos by Cam Usher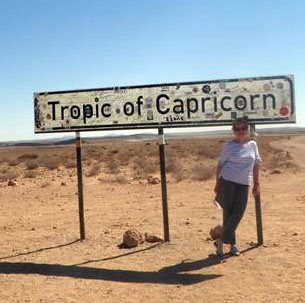 Cam Usher on the Tropic of Capricorn, in Namibia, Africa
editor's note:
Besides Mad Max: Fury Road, filmed halfway up the coast outside Namibia's second city of Swakopmund, other movies filmed in Namibia include Beyond Borders, The Sheltering Desert, Beyond Borders, The Cell, Flight of the Phoenix, The Prisoner (miniseries) and Samsara​. 
CLICK ON THESE SUBJECTS TO READ MORE of Cam's stories:
Delos, center of the Greek universe
An Unholy Day in the Holy Land
Exploring Lithuania's KGB Museum
A Visit With a Nomad Berber Family
The Rossia Hotel - Back in the "U.S.S.R."
---
---